20 years Culture and Equality unit
2020 marked the 20th anniversary of the Culture and Equality unit. Anniversaries invite us to reflect what happened so far and to celebrate successes, but also to set new goals. For this, the unit organised many activities until June 2021.
Fresh off the Presses
20th Anniversary Publication
With the title "No Myth!", the 20th anniversary publication of the Culture and Equality unit collects the activities around the anniversary in one palce. The publication contains
the interviews with Kastalia
a selection of the submitted eyeroll photos and statements
forewords by Sylwia Bukowska and Renée Schroeder
the special supplement "Discrimination - I won't take part in that!"
The publication can be downloaded here (in German) or ordered in print with a mail to femail@univie.ac.at!
Thank you to all contributors!
Sing Along
Roll Roll Roll Your Eyes
Queer STS Forum published the final entry into the anniversary activities: a feminist protest song with the title "Roll Roll Roll Your Eyes". You are cordially invited to sing along.
Rolling our eyes together - be part of it!
It is not only the Culture and Equality unit who work for equality - many people inside and outside the university are working towards that goal. Their activities are not always appreciated. Instead they are often met with rolling eyes. On the occasion of the anniversary, but also beyond it, we want to come together and roll our eyes back.
Kastalia on Equality
To celebrate the anniversary, the unit was able to interview Kastalia. In a series of 10 parts, Kastalia talks about many different aspects of equality and working for equality at the University of Vienna.
Postcards on equality topics
In the course of the anniversary, we also made postcards that deal with equality issues at the university. You can download the (German) postcards here or order them in print in the unit with a short mail to femail@univie.ac.at!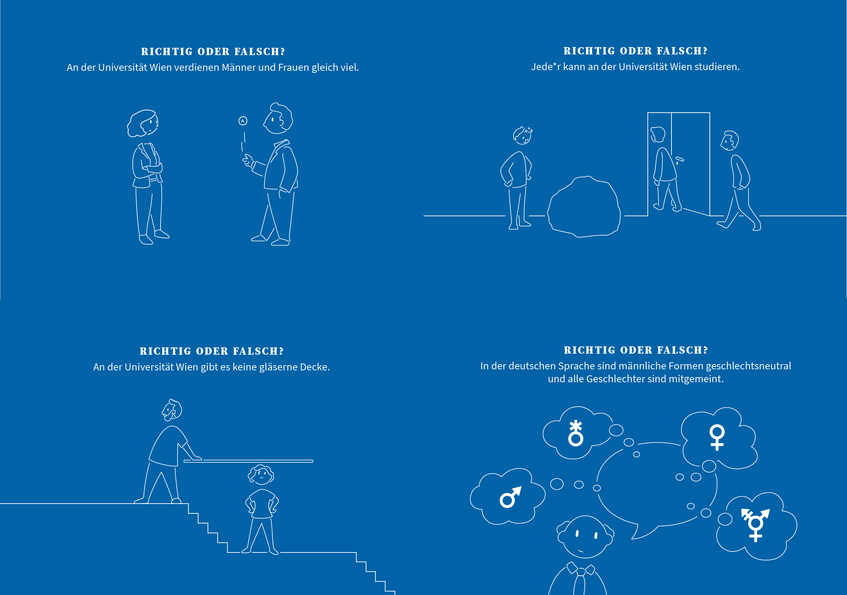 Anniversary party
On June 16, 2021 we celebrated the grand finale of all the anniversary activities via live stream from the Theater Drachengasse. The topic of the party was the past, present and futur of gender equality and diversity at the University of Vienna, with talks from Rector Heinz W. Engl, Vice-Rector Jean-Robert Tyran, head of the unit Sylwia Bukowska and the president of the Equal Opportunities Working Party, Susanne Hochreiter. The programme was accompanied by Anita Zieher and Sandra Schüddekopf from the portraittheater, as well as musicians Ingrid Oberkanins and Ilse Riedler. Additionally the anniversary publication was introduced.
We thank everyone who celebrated with us.